Somewhat updated 10/29/2019

BAH Dobermans/Tek Flight Products, Colebrook Stage, Winsted, CT 06098 (860) 379-1668
Breeding Quality Dobermans for over thirty years.
(Mail link)


Sorry, will be moving so no pups available for at least six months.

Doberman Pinschers - the best friend money can buy
Not sold for guard use. These are high quality, intelligent friends.
Doberman Stud service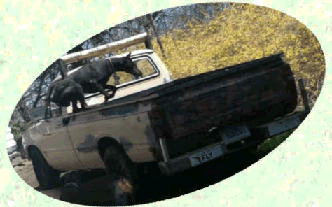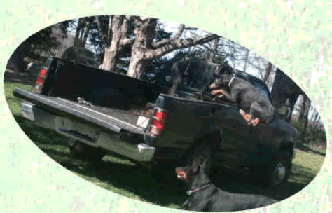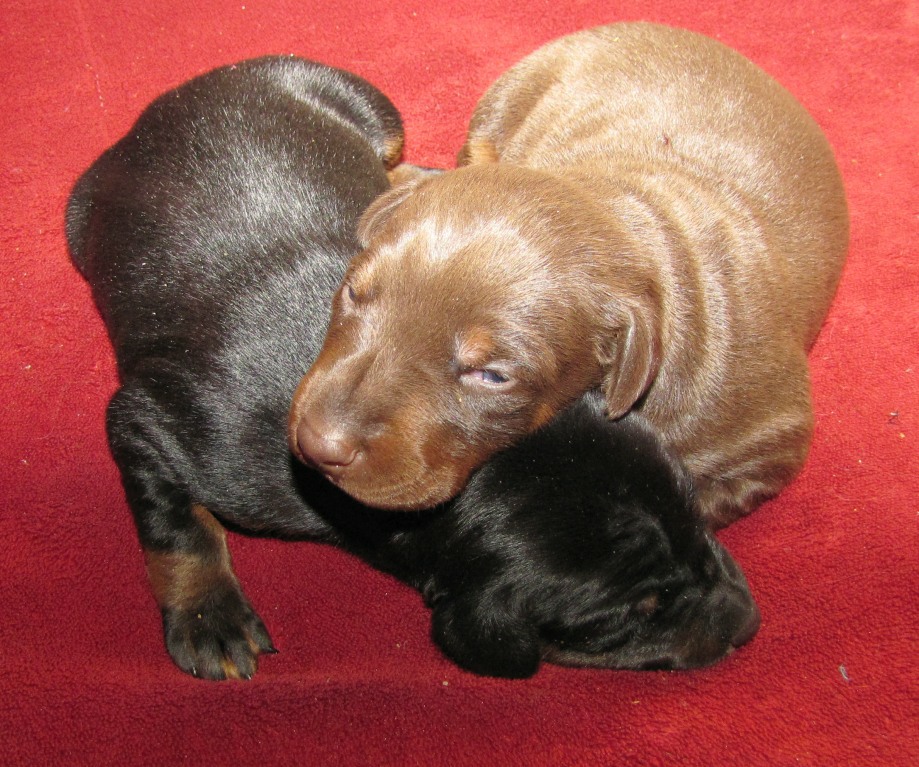 Our October 2016 "litter".

Doberman training and Is a Doberman right for you?
(Do you deserve a Doberman)
No puppies at this time. Let us know if you want to be on the notification list for our next litters.
Occasionally we know of other breeders with pups available.
(Mail link).



&nbsp &nbsp &nbsp &nbsp A word about size. I like large dogs. Unfortunately, there is a price that is paid for size/weight. Most vets have a chart that shows how weight and aging correlate. As a general rule, the heavier the dog, the shorter the life span and the more likely you will run into orthopedic and cardio. problems. As such, we strive to breed dogs that fit within the Doberman standard in order to breed a Doberman who will be with you or us as long as possible. Of course nature throws curves and that little pup that somebody got because it was the smallest ---- oops - it ends up being the largest of the litter. That said:
Sire stands 28.5" at shoulder. When he walks between my legs, I'm on tiptoe or he doesn't make it.
Dam #1 - Autumn, is not large, weighs ~70# and stands 25" at shoulder. Dam #2 -Lizzie is slightly larger. Millie is a bit larger yet and Lucy Liu is between them both. Update - our current male is Cu's son and I just can't bring myself to delete the info. on Cu who was my long time pal. Demon is lighter than Cu - about 80# but about as tall and one of the most agile dogs we have ever seen. You'll have to excuse us, the dog roster has changed over the years and a few are no longer with us and as mentioned, I can't bear to remove their names from the family list. And that new addition, Gem, is going to be ever increasing fun as hinted in the Gem Gumball video --
Gem at 8 weeks - YouTube
Pups have tails docked. Ears natural. You can have them cropped if you must. Me, I hate hospitals and it's still the same dog.
Offspring from this breeding are generally fairly large (within standard) with great personalities. Their major, consistent characteristics have been intelligence, great personality and desire to work. Yes, they are family dogs.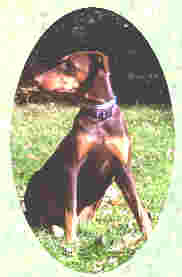 Deposits accepted after pups are one week old. Lower price for early deposit. You can visit to see them or the parents by appointment.
(Mail link). Put "Dobermans" as subject. We'll usually get back to you the same day.
If that mail link doesn't work for you, email us at "Dobes@ctdobermans.com". Put Dobermans as subject.
Tel. (860) 379-1668 (Tek Flight Products) Winsted, CT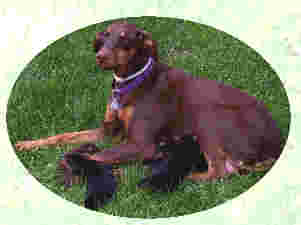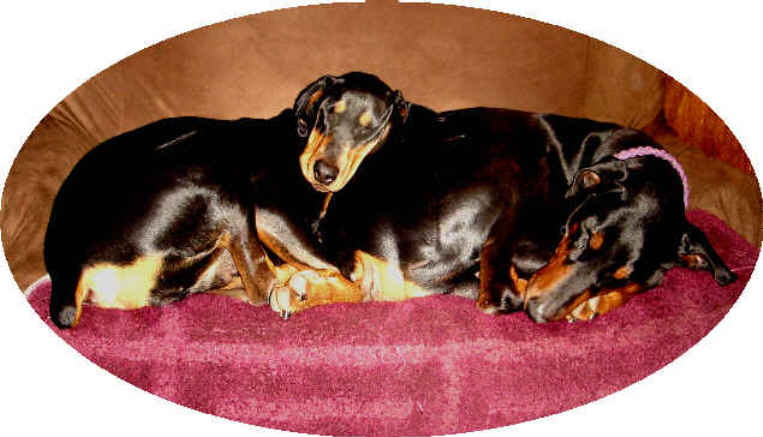 Price from $1400.00 - $1,700.00 depending in part on when we
get a deposit and later, our best guess as to show
quality. Normally most pups are spoken for by four weeks.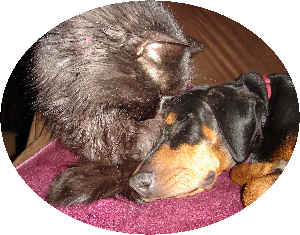 &nbsp &nbsp &nbsp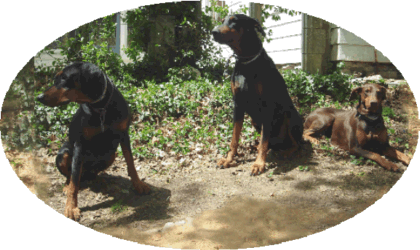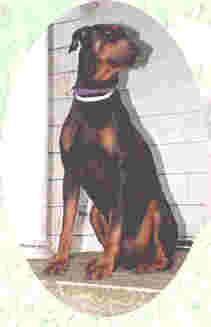 Video (~1.4meg) A Doberman daily routine. "Be there as soon as I get my shoes on". (Shoe change = possible trip somewhere - adventure)
Video (~600k) When Concetto is thirsty ----
Video Josie saying goodbye to "sister", Lucy Liu.

January - Ten cute reasons we avoid winter litters.
'05litter as of 07/24/05 - 3+ wks. (From Brian and Eileen)
A few pictures on 07/29
Mealtime on 07/31

---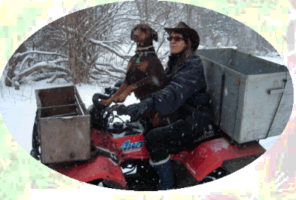 The pictures below are from a previous litter.
Click here for a bunch of pictures up to 06/20/04
A short video of the puppies dining out on 6/27
The pups and proud parents on 06/27/04
The pups on 07/05/04
The pups on 07/18/04
Please contact us if you know of a Doberman needing a good home.
For those interested in an adult dog, consider -- The Doberman Rescue League for New England
Another option for rescues is Marion Animal Shelter, Marion, AR
870-739-5412, 901-262-3977 where they seem to often get Dobermans as rescues. Hunt for pictures


---
And here are some pictures of the children - and grandchildren ---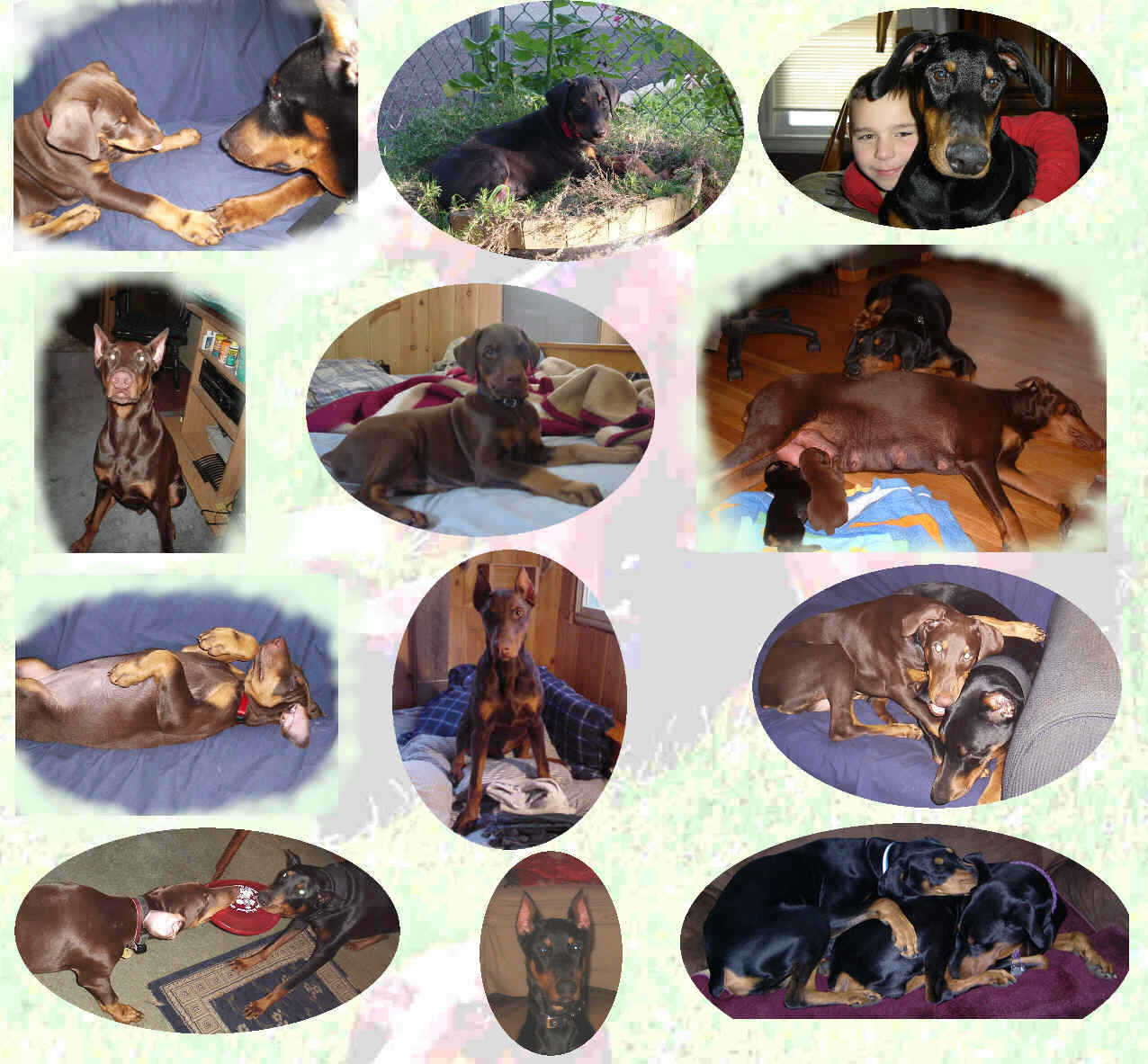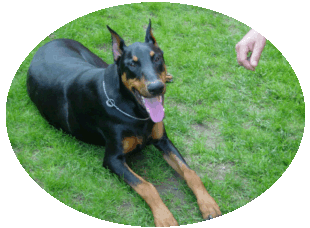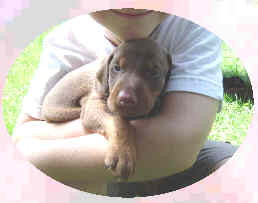 Jake and holidays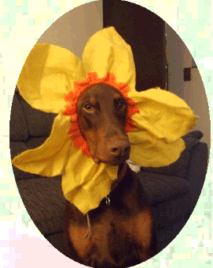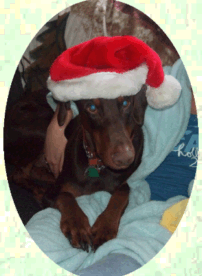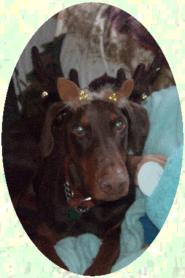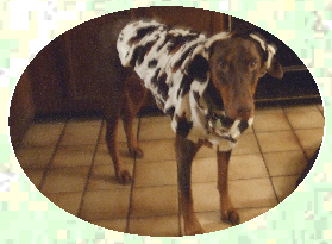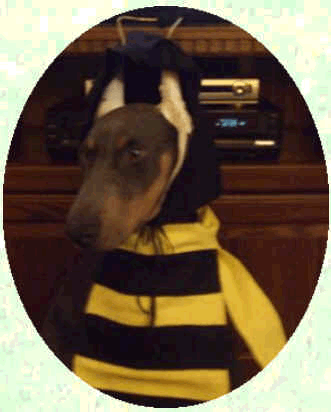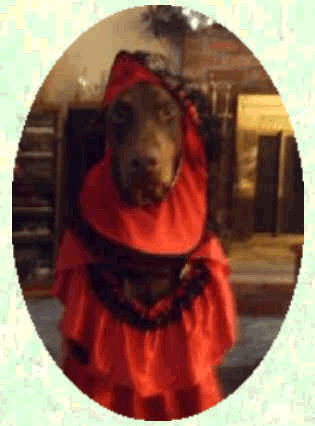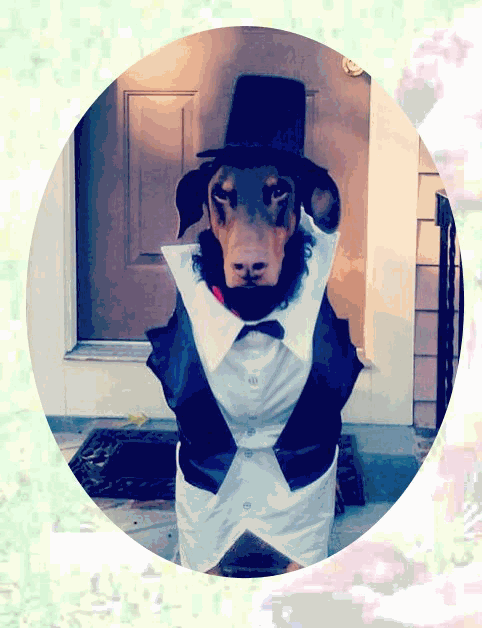 And then there is Sabre AKA Blitzen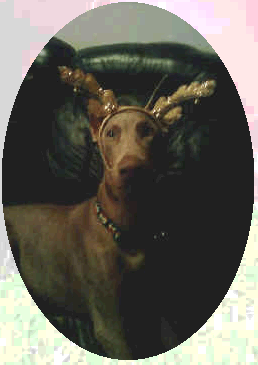 Dobermans and cats (more to come)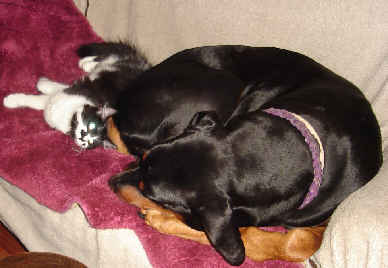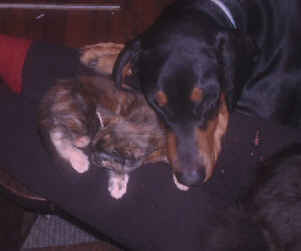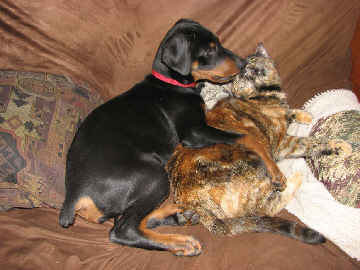 &nbsp &nbsp &nbsp &nbsp You want to buy a Doberman adult or puppy. Why? For many people, "Doberman" is synonymous with aggression and guard dog. Yes, Dobermans have been used as guard dogs but actually, there are many other breeds that do better for that purpose as Dobermans are thinkers - they work to understand why things happen. They don't work well as mindless "attack on command" people. A house pet Doberman would probably defend you if it saw a reason to do so and yes, if it saw a real threat. Hey, it's a friend. They are thinkers. But if you want a dog that is generally aggressive towards all strangers and is an obvious "protector", please pick another breed. So back to the basic question of "Why do you want to get a Doberman?". If the answer is that you want to get an intelligent dog to work with and help bring out the wonder that is inherent in the breed, if you want to have the enjoyment of working with a Dobe and watching it learn, earning its friendship through the work that you do with it, then go for it! If you simply want a dog for protection or a mindless companion, there are a host of other breeds that will serve you better.
&nbsp &nbsp &nbsp &nbsp Dobermans are great "family dogs". When our oldest daughter was a wee thing, if she fell in the yard, you'd hear a "Don't save me" as invariably if the dogs saw her fall, they'd run to check her out and make sure all was well and copious nuzzling and licks would follow.
&nbsp &nbsp &nbsp &nbsp Now for some there is a downside to all of this wonder and fun of Doberman ownership. That little fact that the Doberman owner has to be willing to work with this thinking being and teach it, helping it use its amazing intelligence. They need work and challenge or out of boredom they will look for things to do. They are more than "just a dog".
&nbsp &nbsp &nbsp &nbsp As I try to write this I have a 5+ yr. old coming over with toy in mouth and nudging my elbow, trying to get me to work with him so since we're pals it's five minutes of "Find" games, hiding things for him to find or just having him pick up dog toys scattered around. He could play with other dogs but human interaction is favored and if not challenged in some way, I'd hate to think what that brain could conjure up for entertainment and to get some attention. Does this scare you? No need for fear. It is close to amazing how routine training sessions will turn that dog that might tear up things into a dog you can trust left alone for a day. We don't have to worry about dog destruction at all. If a puppy looks like it wants to use teeth on something that is a "No", make some negative sound and give it an alternative toy. We never have chewed furniture in our house of many dogs and pup.
&nbsp &nbsp &nbsp &nbsp Even after about 40 years of breeding Dobermans, we constantly get surprised with how they connect dots to understand the world you share with them and change to adapt to it. One night one of our "kids" who is allowed IN bed with us, went into the bedroom before we got there and turned down sheet and bedcover to lie on the bed on the sheet as it is not allowed to lie on electric blanket, only under covers with us. Now how do we handle that? Smile for a start. .











Check out FreeDogLIstings.com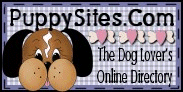 AdAnAd - Free Internet Classifieds